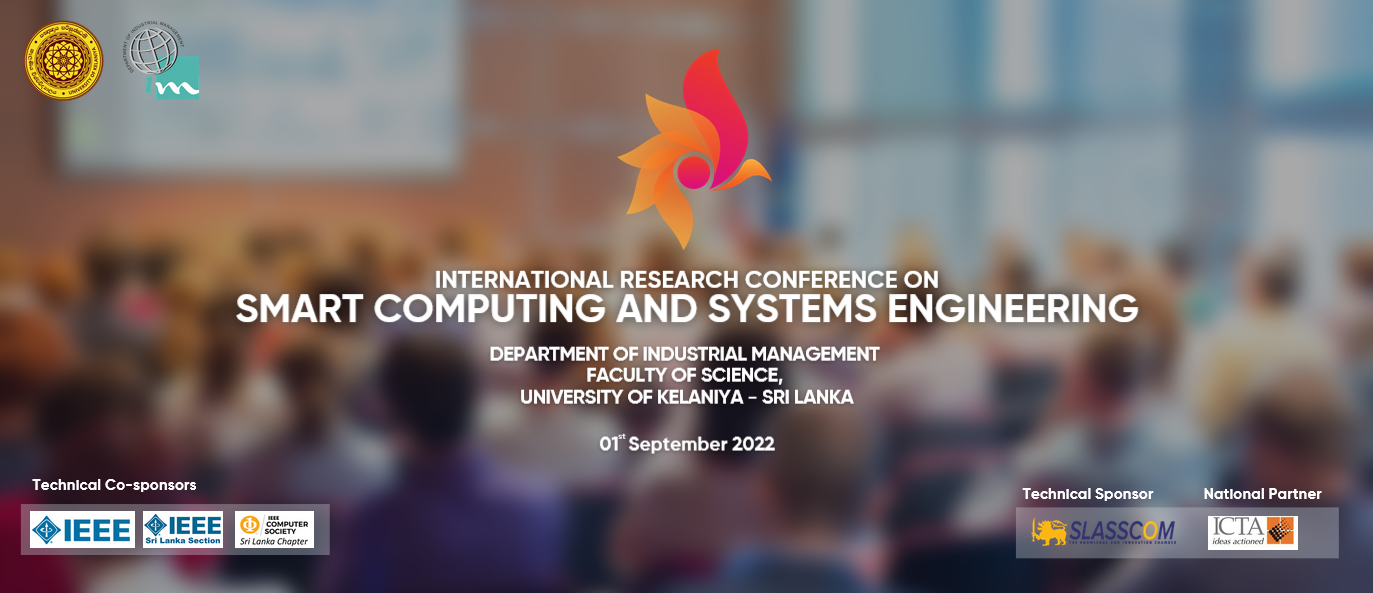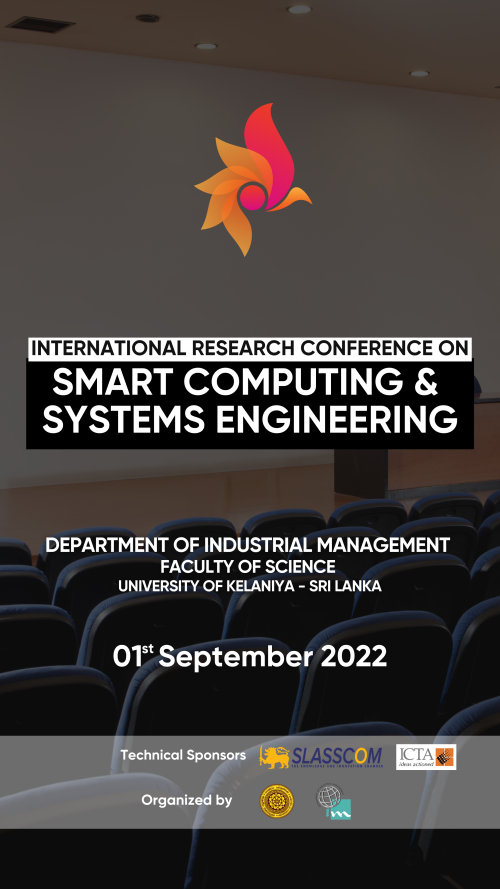 Welcome to the International Research Conference in Smart Computing and Systems Engineering (SCSE) 2022, organized by the Department of Industrial Management, Faculty of Science, University of Kelaniya, Sri Lanka.
The SCSE 2021 conference was concluded successfully on the 16th of September 2021, amidst a representative virtual gathering of research scholars, authors, academia, industry experts and invitees. Keynote addresses of the conference were delivered by Dr. Mats Isaksson, Swinburne University, Australia and Professor Nirmalie Wiratunga, Robert Gordon University, United Kingdom. Forty-one authors presented their papers at the SCSE 2021 conference. We hope the authors had a commendable virtual experience of the conference.
The Department of Industrial Management along with the Faculty of Science, University of Kelaniya, has now organized the SCSE 2022 International Research Conference for the fifth consecutive time. The committee invites the worldwide research scholars, authors, academia, and industry experts, to participate in SCSE 2022 with greater enthusiasm for another rewarding experience at SCSE 2022.


All papers published in SCSE 2022 conference will be added to the IEEE Xplore Digital Library & indexed in Scopus.

Theme: Cloud-Based Machine Learning

Day 01 - 30th August 2022
Machine Learning with Microsoft Azure
Time: 9:00 AM - 3.00 PM

Day 02 - 31st August 2022
Machine Learning for Executives through Gamification
Time: 9:00 AM - 3.00 PM

No of Seats: 50
Location: B 343, Faculty of Science, University of Kelaniya.
Keynote Speakers
Prof. Vojtěch Merunka
Vojtěch Merunka, originally a master in computer engineering, currently serves as an Associate Professor in Information Management at the Faculty of Economics and Management, Czech University of Life Sciences. He was graduated in the field of Electronic Computer Engineering and received his doctorate in Data Processing and Mathematical Modelling. Prof. Merunka also teaches software engineering and information management at the Faculty of Nuclear Sciences and Physical Engineering, Czech University of Technology in Prague. He is primarily interested in object-based programming languages, object-oriented methods, tools for modelling and simulation, Apple technology and is a co-author of the BORM method on the FSM-based object-oriented analysis and simulation of organizational and business systems.

Prof. Merunka is the founder and spiritual father of the International Objects Conference, which primarily focuses on the issue of object-oriented programming. His research interests are based on the areas related to Data and Process Modelling, Theory of the Object-Oriented Approach and Zonal Lingustics. He is currently engaged in projects as Object-Oriented Methods in Software Engineering and the Interslavic Zonal Constructed Language.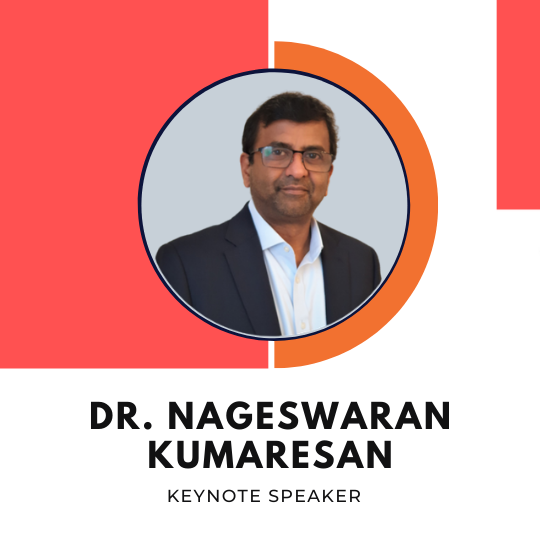 Dr Nageswaran Kumaresan
Dr Nageswaran Kumaresan is a Vice President at London Metal Exchange (LME) and has previously worked in senior positions at General Motors (GM), IBM, PwC Consulting. He is an experienced professional having senior roles in technology risk, cybersecurity, data protection, consulting and audit and expertise across a broad range of industries including Financial Services, Automobile, Pharmaceuticals, Information Technology with the exposure he gained from his working experiences in UK, Japan and Europe. He has led a number of global projects managing multinational teams in the scopes covering system delivery, technology risk management, security controls, and process controls/improvement. He recently provided consultation and audit reviews of systems/processes including system and process automation, agile project delivery, SWIFT system security, DevOps controls, data protection, operational resilience, and cybersecurity risk management.

Dr Kumaresan obtained his PhD in Technology Innovation Management and Industrial Engineering at Tokyo Institute of Technology in 2001, and his Master of Engineering (M.Eng.) in Mechatronics, Robotics, and Automation Engineering in 1998. He was the top of the Batch in his Peradeniya Engineering final year and won multiple awards including E.O.E Pereira Gold Medal. He has published a number of articles on technology innovation, technology management and strategies, innovation systems in the International Journals, and one of which won Michael Cangemi Best Article/Book Award in 2014. Dr Kumaresan holds a number of professional certifications including Certified Information Systems Security Professional (CISSP), Certified in Risk and Information Systems Control (CRISC), Certified Information Systems Auditor (CISA), Chartered Global Management Accountant (CGMA), Certified Internal Auditor (CIA).
Full Paper Submission Opening
02 June 2022 (Thursday) 26 June 2022 (Friday)
Full Paper Submission Closing

Notification of Acceptance
Camera-ready Submission Closing
Early-Bird Registration Deadline
Camera-ready Submission Closing
TRACKS & AREAS
The conference operates with two tracks; the Smart Computing track and the Systems Engineering track, and solicits papers addressing original research from the following areas.
Digitization
Industry 4.0
Big Data Analysis
Digital Transformation
Smart Systems and Technologies
Software and Systems Engineering
Transportation Management
Medical Informatics
Machine Learning and Artificial Intelligence
Industrial Engineering and Automation
Distributed and Cloud-based Systems
System Modelling and Simulation
Virtual and Augumented Reality
Systems and Network Security
Innovation and Resilience
Supply Chain Management
Logistics Systems
| | | |
| --- | --- | --- |
|  Category | Early bird | Regular |
| Local Student | 7500 LKR | 10000 LKR |
| Local Student (IEEE member) | 5500 LKR | 7500 LKR |
| Local Participant | 18000 LKR | 25000 LKR |
| Local Participant (IEEE member) | 13500 LKR | 18500 LKR |
| SAARC | 75 USD | 100 USD |
| SAARC (IEEE member) | 50 USD | 70 USD |
| Outside SAARC | 100 USD | 150 USD |
| Outside SAARC (IEEE member) | 70 USD | 100 USD |